High school
As high school students begin to position themselves for their future, there are many unanswered questions about what lies ahead. Junior Achievement's high school programs help students make informed, intelligent decisions about their future, and fosters skills that will be highly useful in the business world.
With a range of different programs, Junior Achievement teaches about concepts relating to entrepreneurship, financial literacy, and work readiness. The volunteers bring real-life business experience and guidance into the classroom at a time that represents an essential crossroads for young people.
To learn of opportunities for involvement in your area, please contact the local JA office nearest you.
11
JA Economics reinforces concepts of micro- and macro- economics by having students explore the basic characteristics of the U.S. economic system, and how economic principles influence business decisions. It also introduces students to career opportunities, consumer issues, and helps reinforce important academic and leadership skills, including: research and data analysis, problem-solving and critical thinking.
A study guide, like the one pictured here, is found in each JA Economics program kit.
Download program summary
JA Exploring Economics tackles a complex subject and makes it accessible and fun for high school students through hands-on activities. JA Exploring Economics teaches concepts such as supply and demand and inflation, and teaches students about the effect which governments and the individual have on the global economy and on the price of a loaf of bread.
By making economics engaging and relatable, JA Exploring Economics helps students better understand the impact they have on the economy as consumers and taxpayers, and teaches important personal financial lessons around spending, saving, and investing.
A study guide, like the one pictured here, is found in each JA Economics program kit.
Download program summary
This program introduces students to the importance of making wise financial choices. Students explore the role that money plays in achieving personal goals throughout life. They develop planning, goal setting, and thoughtful decision-making skills that will help them protect themselves from the unexpected financial pitfalls that plague so many adults.
Download program summary
JA Be Entrepreneurial, a new high school program, focuses on challenging students, through interactive classroom activities, to start their own entrepreneurial venture while still in high school. One of ten JA programs designed with the specific needs of upper grade students in mind, JA Be Entrepreneurial provides useful, practical content to assist students to transition into becoming productive, contributing members of society.
It helps bring these ideas to life. As a teacher I have to focus to get them interested in theory, but this really left me making a connection, getting practical applications. – (Teacher)
This program makes entrepreneurship seem like a more attainable goal. Most of the time when you think about people starting a business it seems really hard. With this you see the pros and cons of it and realize all that has gone into it. – (Student)
I'm an entrepreneur, so I've done what this is all about. In fact, I would give this teaching guide to a couple of my guys in the business with me. I think it's very good. – (Volunteer)
Download program summary
With the support and guidance of volunteer consultants from the local business community, the JA Company Program provides basic economic education for high school students. By organizing and operating an actual business enterprise, students not only learn how businesses function, they also learn about the structure of the U.S. free enterprise system and the benefits it provides.
JA Company Program helps young people appreciate and better understand the role of business in our society.
There are many ideas and options for a JA Company Program product! What's most important is that the students enjoy what they're producing and selling. While it is possible for JA Companies to offer services, this site offers a whole host of ideas for products that students might sell.
Each JA Company Program kit contains a plethora of resources, including a handbook for teachers and volunteers like the one seen here.
JA Student Company of the Year Competition
Check out Junior Achievement's new Facebook application for JA Company Program participants here! It'll help you operate your JA Company by providing document templates and can facilitate communication between you and your fellow officers and your JA Company Program advisor, all in Facebook!
Download program summary
Would you rather tell students about the workplace or show them? We introduce students to careers through one-day, on-site orientations or through more extensive internships. Either way, it's an authentic work-world experience for the students … enhanced with classroom preparatory and follow-up activities.
JA Job Shadow takes students into the workplace to learn about careers.
Download program summary
"What do I need to know to find, get, and keep a job"? The answer? JA Success Skills. Students participate in challenging exercises to help them develop personal strategies to achieve lifelong learning pursuits and career opportunities. Team-building exercises test their problem-solving and critical-thinking skills, as well as their ability to communicate, negotiate, and lead. Through engaging activities, they appreciate the importance of personal appearance, professional demeanor, punctuality, and written and oral communication.
Teacher and volunteer handbooks, like the one seen here, accompany each JA Success Skills program kit.
Download program summary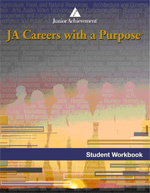 "Self-respect is the cornerstone of all virtue."
    - John Herschel, English astronomer (1792-1871)
"Those who know when they have enough are rich."
    - Chinese Proverb
"The greatest truths are the simplest, and so are the greatest men."
    - Julius Charles Hare, English writer (1795-1855)
"Do not be too timid and squeamish about your actions. All life is an experience."
    - Ralph Waldo Emerson, American author (1803-1882)
Maxims, or rules of conduct, are used in the new high school program, JA Careers with a Purpose, to frame career and life decision-making. What should I do when I graduate from high school? What choices are out there? How do my skills, interests, and values match with available careers?
Through JA Careers with a Purpose, students learn to use ethical decision-making skills to make career and life decisions. They discover that their career can have a noble purpose by reviewing their values and life maxims.
JA Careers with a Purpose includes seven program sessions and strongly encourages students to complete the skills, interests, and values career assessments available on ja.org. The program also invites students to compete in the Laws of Life essay contest.
Download program summary
JA Titan is more than just a game. It's a JA experience.
Coupled with the presence of a volunteer in the classroom, students apply their knowledge of business as they compete online in the highly competitive industry of the fictional Holo-Generator™.
While simulating "business quarters," students enter decisions on price, production, marketing, capital investment, and R & D. The impact of the decisions will lead to the success or failure of each Holo-Generator™ company.
Here's a screen shot from our exciting online business simulation, JA Titan.
Download program summary
Suscribe to receive the latest news