Elementary School
Junior Achievement is the world's largest organization dedicated to educating students in grades K-12 about entrepreneurship, work readiness and financial literacy through experiential, hands-on programs.
Our programs help prepare young people for the real world by showing them how to generate wealth and effectively manage it, how to create jobs which make their communities more robust, and how to apply entrepreneurial thinking to the workplace. Students put these lessons into action and learn the value of contributing to their communities.
JA's unique approach allows volunteers from the community to deliver our curriculum while sharing their experiences with students. Embodying the heart of JA, our classroom volunteers transform the key concepts of our lessons into a message that inspires and empowers students to believe in themselves, showing them they can make a difference in the world.
To learn of opportunities for involvement in your area, please contact the local JA office nearest you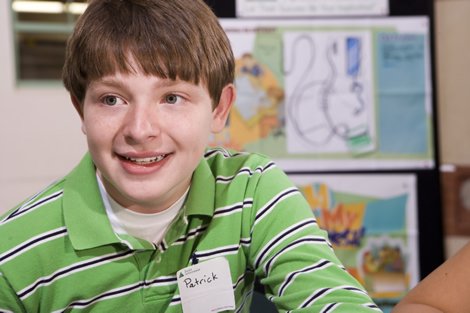 7
Story time and small children. JA uses compelling stories about helping, working, earning, and saving along with hands-on activities to engage the students. Ourselves introduces the economic roles of individuals. Each Ourselves program kit comes with an informative teacher/volunteer handbook as pictured here.
Download program summary
Small children like to do things by themselves. But as children grow, they discover that our society--our economy--depends on people working together. And it all starts with the people with whom we live. JA volunteers use a combination of pictures, stickers, and flashcards to engage students in activities about needs and wants, jobs, tools and skills, and interdependence.
Our Families discusses the role of families in the local economy.
Each Our Families program kit contains a number of colorful graphics and posters like the one seen here.
Download program summary
What lies beyond your front door? Let's explore it! JA volunteers display a poster of a typical community, and the students meet some of the people who live and work there. Through hands-on activities, the students learn about workers, the work they perform, why workers are paid, what taxes are and how they are used, and where to save money.
Our Community examines responsibilities and economic opportunities available within a community.
Download program summary
A city is a place where a lot of people live, work, play, and go to school. So JA classroom volunteers help students build a city! The students construct paper buildings, map out a city, write newspaper articles, plan their own restaurants, and examine why banks are important.
Our City considers economic development, local businesses, and career opportunities.
Among the many resources contained in the Our City program kit, the "City Zones" poster illustrates different aspects of a city.
Download program summary
Where does grocery store produce come from? Who grew the fruits and vegetables? How did they get there? In this program students discover the natural, human, and capital resources in their home states and in regions of the United States. JA classroom volunteers show how resources are combined to create goods and services that individuals, businesses, and organizations provide to consumers.
Our Region explains the economic/business resources found in state and regional economies.
Each Our Region program kit contains a number of helpful resources, including a map like this one.
Download program summary
Our Nation is Junior Achievement's fifth-grade program that provides practical information about businesses' need for individuals who can meet the demands of the job market, including high-growth, high-demand jobs. Students will learn that businesses need workers with skills that are in demand, such as STEM skills – science, technology, engineering and math. They'll understand that people who have these skills benefit from a growing number of career opportunities.
Our Nation introduces the concept of globalization of business as it relates to the various careers students may choose to pursue, and the need for students to be entrepreneurial in their thinking.
Students who get Our Nation today will be better equipped for tomorrow to meet the requirements of businesses worldwide.
Each Our Nation program kit comes with an informative workbook as pictured here.
Download program summary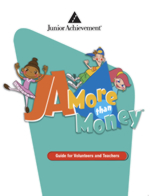 JA More than Money will meet the after-school programming needs of a diverse group of students by providing engaging, academically enriching, and experiential learning sessions in economic education.
JA More than Money encompasses economics and business curriculum for students in grades three through five.
Each JA More than Money program kit comes with an informative workbook.
Download program summary
BizKid$ is a multi-media, multi-faceted initiative that shows school-aged children how to make and manage money, and teaches them about entrepreneurship. The initiative includes:
Public TV Series – Biz Kid$ is a weekly 30-minute TV show by the Emmy award-winning creators of "Bill Nye the Science Guy." The show is fun, fast-paced, and features compelling stories from real-life young entrepreneurs.
Classroom Activities – JA-created lessons reinforce the content of each television episode and supplement existing JA programs.
Website – Includes fun content for students - blogs, games, video clips, opportunities to become part of the Biz Kid$ community and more! Also available on www.bizkids.com are the downloadable lessons for classroom volunteers, educators and parents.
eNewsletter – The Vault is a monthly eNewsletter which offers ideas on how kids can start their own businesses, hints on earning money and tips on making their money grow.
Contact your local JA office to volunteer or to get Biz Kid$ in your classroom today!
Elementary school students are not old enough to drive, work, vote, or be the boss. But that doesn't stop them from operating banks, managing restaurants, writing checks, and voting for mayor at JA BizTown! The program combines in-class learning with a day-long visit to this fully-interactive simulated town facility. The program helps students connect the dots between what they learn in school and the real world.
Through daily lessons, hands-on activities, and active participation in this simulated community designed to support differentiated learning styles, students develop a strong understanding of the relationship between what they learn in school and their successful participation in a worldwide economy.
Download program summary
Suscribe to receive the latest news